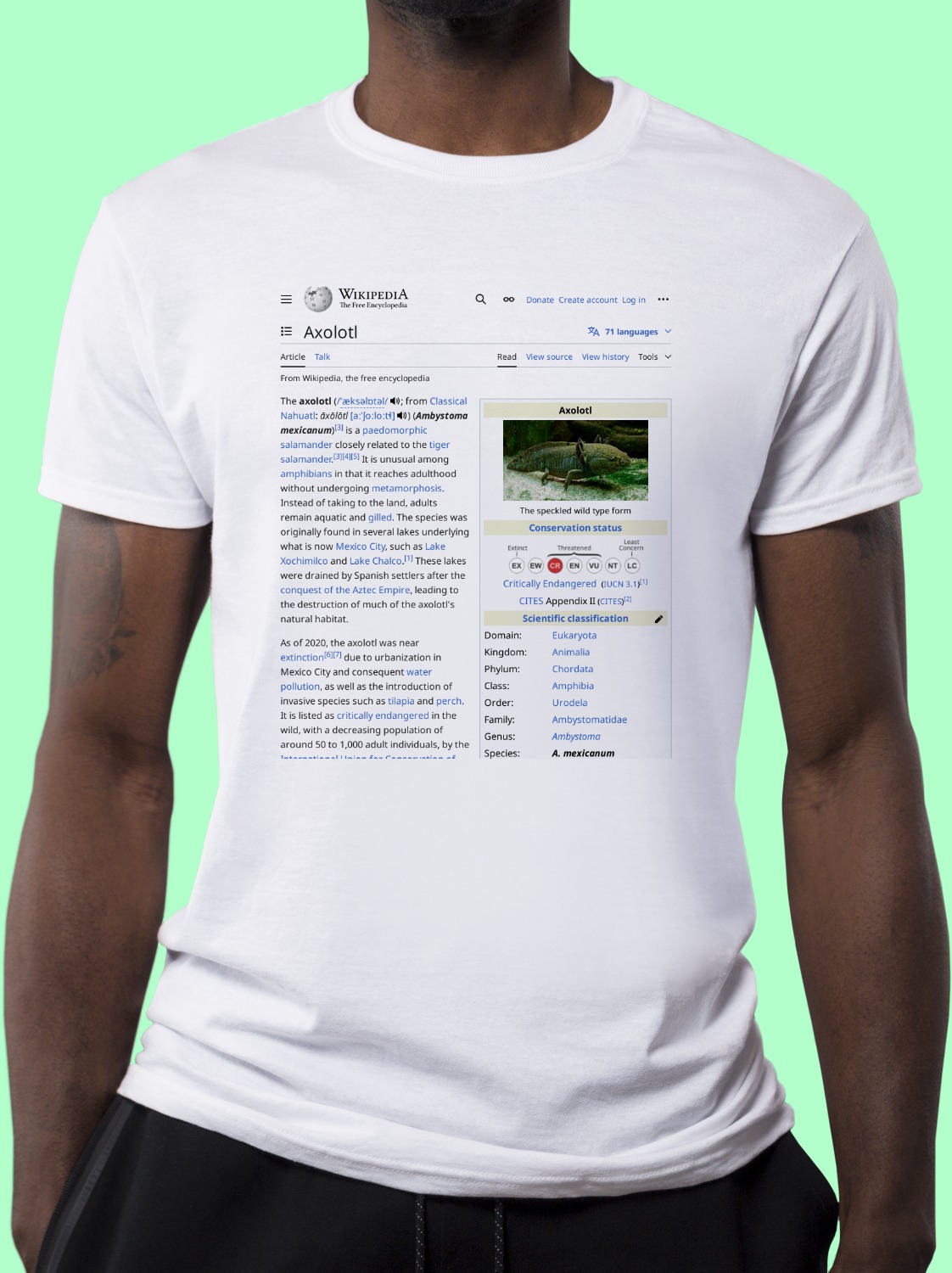 Axolotl Wikipedia Article T-Shirt
Unisex Crew Neck
Axolotl Shirt
A classic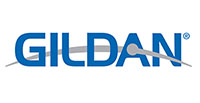 cotton tee emblazoned with the Wikipedia article on
Axolotl ↗
.
Preshrunk jersey knit
Seamless double-needle 2.2 cm collar
Taped neck and shoulders
Tear away label
Double-needle sleeve and bottom hems
Quarter-turned to eliminate centre crease
The axolotl (; from Classical Nahuatl: āxōlōtl [aːˈʃoːloːtɬ] ) (Ambystoma mexicanum) is a paedomorphic salamander closely related to the tiger salamander. It is unusual among amphibians in that it reaches adulthood without undergoing metamorphosis. Instead of taking to the land, adults remain aquatic and gilled. The species was originally found in several lakes underlying what is now Mexico City, such as Lake Xochimilco and Lake Chalco. These lakes were drained by Spanish settlers after the conquest of the Aztec Empire, leading to the destruction of much of the axolotl's natural habitat.
As of 2020, the axolotl was near extinction due to urbanization in Mexico City and consequent water pollution, as well as the introduction of invasive species such as tilapia and perch. It is listed as critically endangered in the wild, with a decreasing population of around 50 to 1,000 adult individuals, by the International Union for Conservation of Nature and Natural Resources (IUCN) and is listed under Appendix II of the Convention on International Trade in Endangered Species (CITES). Axolotls are used extensively in scientific research due to their ability to regenerate limbs, gills and parts of their eyes and brains. Notably, their ability to regenerate declines with age, but it does not disappear. Axolotls keep modestly growing throughout their life and some consider this trait to be a direct contributor to their regenerative abilities. Further research has been conducted to examine their heart as a model of human single ventricle and excessive trabeculation. Axolotls were also sold as food in Mexican markets and were a staple in the Aztec diet.
Axolotls should not be confused with the larval stage of the closely related tiger salamander (A. tigrinum), which are widespread in much of North America and occasionally become paedomorphic. Neither should they be confused with mudpuppies (Necturus spp.), fully aquatic salamanders from a different family that are not closely related to the axolotl but bear a superficial resemblance.
(from the Wikipedia article printed on this shirt)
About Wikishirt
Wikishirt is a
retail experiment
that lets you buy a shirt with
any Wikipedia Article
printed on it. There are over 5 million Wikipedia articles, so we have
over 5 million shirts
.
Check out
our homepage
for random featured shirts and more!
📦 Free shipping to addresses in the United States!