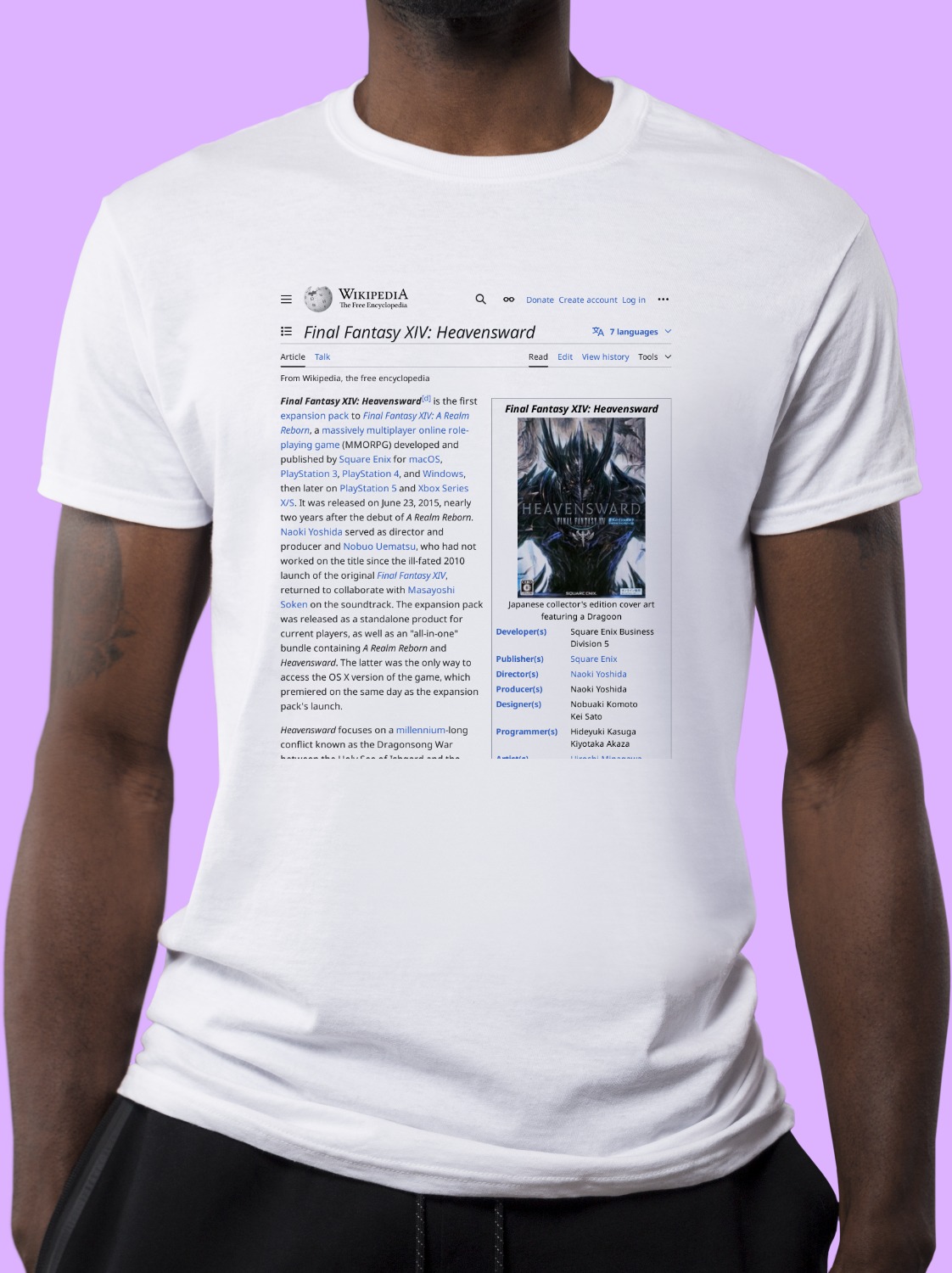 Final Fantasy XIV: Heavensward Wikipedia Article T-Shirt
Unisex Crew Neck
Final Fantasy XIV: Heavensward Shirt
A classic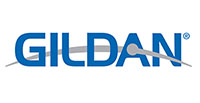 cotton tee emblazoned with the Wikipedia article on
Final Fantasy XIV: Heavensward ↗
.
Preshrunk jersey knit
Seamless double-needle 2.2 cm collar
Taped neck and shoulders
Tear away label
Double-needle sleeve and bottom hems
Quarter-turned to eliminate centre crease
Final Fantasy XIV: Heavensward is the first expansion pack to Final Fantasy XIV: A Realm Reborn, a massively multiplayer online role-playing game (MMORPG) developed and published by Square Enix for macOS, PlayStation 3, PlayStation 4, and Windows. It was released on June 23, 2015, nearly two years after the debut of A Realm Reborn. Naoki Yoshida served as director and producer and Nobuo Uematsu, who had not worked on the title since the ill-fated 2010 launch of the original Final Fantasy XIV, returned to collaborate with Masayoshi Soken on the soundtrack. The expansion pack was released as a standalone product for current players, as well as an "all-in-one" bundle containing A Realm Reborn and Heavensward. The latter was the only way to access the OS X version of the game, which premiered on the same day as the expansion pack's launch.
Heavensward focuses on a millennium-long conflict known as the Dragonsong War between the Holy See of Ishgard and the dragon horde of Dravania. Players seek asylum in Ishgard after being falsely accused of murder and become involved in efforts to end the war. These actions uncover an ancient conspiracy concerning the origins of the war. In addition to the new areas, the expansion pack increases the level cap, adds three new character classes and a new playable race, and introduces flying gameplay through the use of airships and other airborne mounts.
Heavensward performed well critically and earned nominations for "Expansion of the Year". By July 2015, the title had reached a cumulative total of five million subscriptions. However, the company suspended sales of the OS X version of the client that same month due to numerous reports of poor technical performance and offered refunds to those who purchased it. OS X sales resumed in February 2016. As with A Realm Reborn, major content patches were scheduled for every three months, though the first one—"As Goes Light, So Goes Darkness"—was delayed to November 10 the same year, to give the development team a break after shipping the expansion.
(from the Wikipedia article printed on this shirt)
About Wikishirt
Wikishirt is a
retail experiment
that lets you buy a shirt with
any Wikipedia Article
printed on it. There are over 5 million Wikipedia articles, so we have
over 5 million shirts
.
Check out
our homepage
for random featured shirts and more!
📦 Free shipping to addresses in the United States!