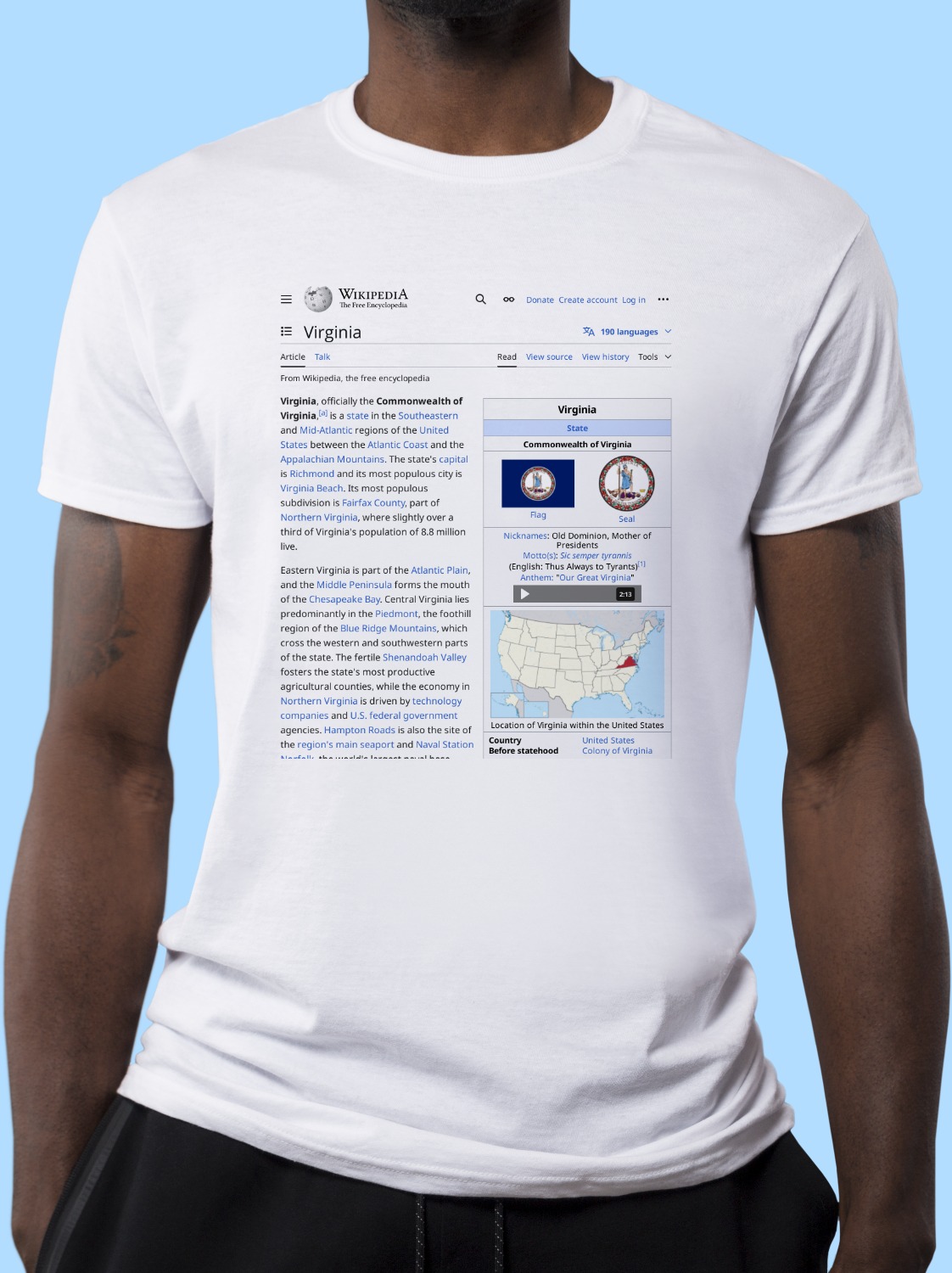 Virginia Wikipedia Article T-Shirt
Unisex Crew Neck
Virginia Shirt
A classic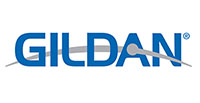 cotton tee emblazoned with the Wikipedia article on
Virginia ↗
.
Preshrunk jersey knit
Seamless double-needle 2.2 cm collar
Taped neck and shoulders
Tear away label
Double-needle sleeve and bottom hems
Quarter-turned to eliminate centre crease
Virginia, officially the Commonwealth of Virginia, is a state in the Mid-Atlantic and Southeastern regions of the United States between the Atlantic Coast and the Appalachian Mountains. The state's capital is Richmond, its most populous city is Virginia Beach, and Fairfax County is the state's most populous political subdivision. Virginia's population in 2022 was over 8.68 million, with 35% living within the Greater Washington metropolitan area. The Blue Ridge Mountains cross the western and southwestern parts of the state, while the state's central region lies mostly within the Piedmont. Eastern Virginia is part of the Atlantic Plain, with the Middle Peninsula forming the mouth of the Chesapeake Bay.
Virginia's history begins with several Indigenous groups, including the Powhatan. In 1607, the London Company established the Colony of Virginia as the first permanent English colony in the New World. Virginia's state nickname, the Old Dominion, is a reference to this status. Slave labor and land from displaced native tribes fueled the growing plantation economy, but also fueled conflicts both inside and outside the colony. Virginia was one of the original Thirteen Colonies in the American Revolution, during which several key battles were fought there. More major battles were fought in Virginia during the American Civil War, which split the state as the government in Richmond joined the Confederacy, but many northwestern counties remained loyal to the Union and separated as the state of West Virginia in 1863. Although the state was under one-party rule for nearly a century following the Reconstruction era, both major political parties are competitive in modern Virginia.
Virginia's state legislature is the Virginia General Assembly, which was established in July 1619, making it the oldest current law-making body in North America. It is made up of a 40-member Senate and a 100-member House of Delegates. Unlike other states, cities and counties in Virginia function as equals, but the state government manages most local roads inside each. It is also the only state where governors are prohibited from serving consecutive terms. Virginia's economy is diverse with a strong agriculture industry in the Shenandoah Valley; high-tech and federal agencies in Northern Virginia, including the headquarters of the U.S. Department of Defense and Central Intelligence Agency; and military facilities in Hampton Roads, the site of the region's main seaport.
(from the Wikipedia article printed on this shirt)
About Wikishirt
Wikishirt is a
retail experiment
that lets you buy a shirt with
any Wikipedia Article
printed on it. There are over 5 million Wikipedia articles, so we have
over 5 million shirts
.
Check out
our homepage
for random featured shirts and more!
📦 Free shipping to addresses in the United States!